Remembering Pausch's Last Lecture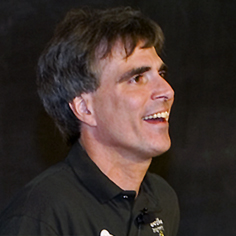 September 18 marks the anniversary of the lecture heard 'round the world. But for many it seems like only yesterday Carnegie Mellon Computer Science Professor Randy Pausch was inspiring — and entertaining — students, friends and colleagues with his own brand of life lessons.
A month after doctors told him he had three-to-six months to live following a recurrence of pancreatic cancer, Pausch presented a lecture called "Really Achieving Your Childhood Dreams" to a packed auditorium on the university's Pittsburgh campus.
Since that day, millions of people worldwide have viewed the lecture online and Pausch has become a household name through appearances on ABCNews with Diane Sawyer and The Oprah Winfrey Show — even a spot on TIME magazine's list of the world's 100 Most Influential People.
Pausch's book "The Last Lecture," a national bestseller based on the now-famous talk, was co-written by The Wall Street Journal's Jeff Zaslow who is also a Carnegie Mellon alum.
Copies of the book were sent to all incoming first-year students who later met in small groups to share their reflections with other students and faculty and staff.
"What I reflected on most about the book was the section near the end where he gave a lot of good advice about how to live your life," said first-year student Robert Myers. "The most memorable passage to me was when he said 'whether you think you can or can't ... you're right.'"
Myers added, "This book taught me a huge deal of lessons, but what it really got me thinking about was how to live my life. It reminded me not to take my life for granted and to always live as if I were dying."
Pausch, a devoted husband and father of three, died of complications from pancreatic cancer on July 25, 2008, at the age of 47. He was a Carnegie Mellon alumnus, co-founder of the Entertainment Technology Center and led the researchers who created Alice, a revolutionary way to teach computer programming.
A memorial service at Carnegie Mellon in Pittsburgh will be held Sept. 22. While space is limited to invited members of the campus community, others can join the service through a streaming webcast. For more information, visit www.cmu.edu/randyslecture.
Related Links: More on Randy  |  Watch Randy's Lecture on YouTube  |  Download Randy's Lecture on iTunes U  |  Buy the Book
---