New Autonomous Driving Lab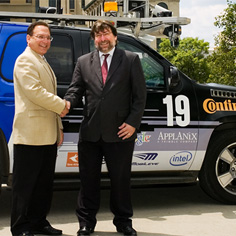 General Motors Corp. and Carnegie Mellon announced a new Collaborative Research Lab (CRL) — and a renewed commitment to work jointly on technologies that will accelerate the emerging field of autonomous driving.
The GM-Carnegie Mellon Autonomous Driving Collaborative Research Lab is being established under the terms of a five-year, $5 million agreement.
The lab will operate as an extension of GM's Global Research & Development network and will be located at Carnegie Mellon in Pittsburgh. Faculty from the university's School of Computer Science and College of Engineering will participate.
"GM and Carnegie Mellon University have a lengthy and successful history of working together on autonomous and robotic technologies," said Alan Taub, executive director of GM Research & Development in Warren, Mich. "We have a shared vision of developing technologies that have the potential to resolve transportation challenges. Continuing this successful working relationship is a natural next step toward achieving our mutual goals."
As the Carnegie Mellon and GM partnership showed last fall with their first place win in the 2007 DARPA Urban Challenge, cars can indeed drive themselves.
"Technologies ranging from electronics, controls and software to wireless capabilities and digital mapping could ultimately change how people drive and use their vehicles," said Larry Burns, GM vice president of R&D and Strategic Planning. "Imagine being virtually chauffeured safely in your car while doing your e-mail, eating breakfast and watching the news. The work we're doing with Carnegie Mellon is a big stepping stone toward making this a reality."
Rick McCullough, vice president for research at the university, noted that Carnegie Mellon has been a pioneer in autonomous navigation of robotic vehicles, beginning in 1984 with its series of NavLab vehicles.
"We are eager to see this technology used to improve the safety and convenience of the cars and trucks we depend upon every day and we could wish for no better partner than GM to make this happen," McCullough said.
In 2000, General Motors and Carnegie Mellon established their first CRL to conduct joint research in smart car technology and in 2003 that commitment to work together was renewed. The work of that CRL continues and, though it is separate from the new Autonomous Driving CRL, its success was a factor in the decision to launch the new CRL.
"Carnegie Mellon is one of only 10 academic institutions around the world involved in GM's CRL program," said Nady Boules, director of the Electrical & Controls Integration Lab at GM R&D and co-director of the new CRL. "Working with the best in a specific field significantly expands GM's technical capabilities in areas we consider strategic."
Raj Rajkumar, a Carnegie Mellon professor of electrical and computer engineering will co-direct the new CRL with Boules.
"Research in this new lab will focus on creating and maturing the underlying technologies required to build the autonomous vehicle of the future," said Rajkumar. "Autonomous vehicles will change the face of transportation by reducing deaths and injuries from automobile accidents and increasing the convenience and comfort of vehicles."
Photographed (l. to rt.): Alan Taub, executive director of GM Research & Development with Mark Kamlet, Provost, Carnegie Mellon University 
Related Links: School of Computer Science  |  College of Engineering  |  GM
---