Futuristic Exhibits on Display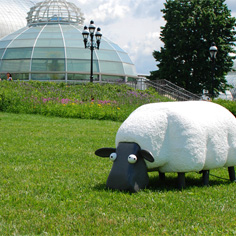 Snake robots, dancing Keepon robots, breathtaking GigaPan Camera panoramas and a sheep that mows grass instead of eating it — these Carnegie Mellon University contributions are on display at this year's Wired NextFest. The event is hosted free to the public by Wired Magazine at Chicago's Millennium Park through Oct. 12.
The snake robots developed for urban search and rescue by Associate Robotics Professor Howie Choset, can crawl, swim and climb poles.
Robotics doctoral student Marek Michalowski will showcase three small yellow robots named Keepon. Originally designed by a Japanese researcher to interact with children with developmental disorders, Michalowski has given Keepon a new role in human-robot interaction by teaching it to dance. This new attribute has brought Keepon and its developers international acclaim and monetary prizes.
Carnegie Mellon's Gigapan camera system developed by Illah Nourbakhsh and Randy Sargent also will be on display in the NextFest robotics section. The Gigapan is a robotic device that attaches to any digital camera, enabling the user to shoot interactive, multibillion-pixel panoramas that can be explored in great depth on the web.
In addition to featuring breathtaking panoramas from around the world, this exhibit will include a kiosk featuring iconic pictures of the city of Chicago. They're already viewable on Gigapan's website.
The fourth exhibit is "Mower," or Moe, a robotic Styrofoam sheep that mows lawns. Mower is the creation of Osman Khan, a visiting assistant professor of art at Carnegie Mellon and Joshua Shapiro, a researcher at the Robotics Institute's CREATE Lab. Get a glimpse of Moe in action on YouTube.
Wired NextFest is described as "the premier showcase of the global innovations transforming our world. Now in its fifth year, Wired's gallery of the future includes unique and bold exhibits of sustainable design, next generation healthcare, interactive art and games, humanoid robotics and more."
Related Links: Snakebots  |  Keepon  |  Gigapan Project
---