School of Computer Science Complex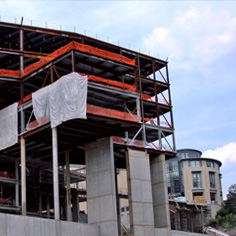 A recent topping-off ceremony commemorated placement of the final steel beam on the new School of Computer Science (SCS) Complex at Carnegie Mellon University.
"After taking what felt like an eternity getting out of the ground, it is very exciting to now hit this topping-off milestone," said Ralph Horgan, associate vice provost for campus design and facility development. "With the structural steel erected, the campus can begin to experience the size of the building, the form of the building and the unique way that it fits on the site."
Horgan added, "As we move forward, people should also begin to sense how the building will weave together different parts of the campus, from East to West and North to South. We have a lot of work yet to do, but the topping off marks the introduction of this special project to the university community."
Construction of the 200,000-square-foot SCS Complex, which includes the Gates Center for Computer Science and the Hillman Center for Future-Generation Technologies, began in 2007 after a lead gift of $20 million from the Bill and Melinda Gates Foundation. Last February, the Hillman Foundation gave $10 million toward construction of the Hillman Center. Both structures are expected to open by fall 2009.
"After years of planning and looking at a big hole in the ground, it has been exciting for us to watch the steel rising up and the building taking shape," said Randal E. Bryant, dean of Carnegie Mellon's School of Computer Science. "The reaction by everyone who has seen it has been 'wow!'  In particular, they've commented that it's a really big building, and all of those angles and overhangs are quite dramatic."
Bryant added, "Having been up in the building myself a few times, I can see that it will be a remarkable building for the occupants as well."
Prior to the ceremony, members of the Carnegie Mellon community were able to sign and write messages on the beam.
A topping-off ceremony is a construction-industry tradition marking the moment when the crew puts the highest structural point of a building in place.
In addition to signing the beam, it is customary to put an evergreen and an American flag on the beam as a good-luck charm for the workers and future occupants of the building, which the workers also did.
Related Links: School of Computer Science Complex  |  School of Computer Science
---