Biosensors in the Body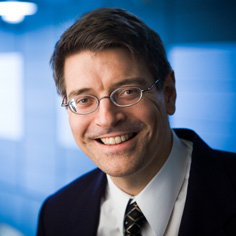 Early diagnosis and precise intervention are key to treating disease and trauma. That's why Carnegie Mellon researchers are working to develop implantable microsystems — or biosensors — that are designed to improve outcomes for a multitude of medical applications.
The Center for Implantable Medical Microsystems (CIMM), which is a center in Carnegie Mellon's Institute for Complex Engineered Systems (ICES), brings together faculty members and students from various disciplines with one goal in mind — to develop therapeutic tools and "near-zero invasive" diagnostic monitors that can be implanted in the body.
They are focused on developing modular technologies, which will enable rapid design of the systems for specific applications, and partnering with physicians to drive design, implementation and clinical studies.
The resulting implantable microsystems aim to solve unmet needs and improve outcomes for such applications as: cancer, hepatitis B and C, sudden cardiac death, HIV, epilepsy, diabetes, musculoskeletal disease, trauma, transplantation, obesity, resuscitation, spinal cord injury and management of activity under extreme conditions.
"Biosensors are one key aspect of CIMM's goal and span an enormous range of potential functions," explained Gary Fedder, director of ICES. For example, one biosensor under development by Fernando Alfaro (CS '01, '07) will assess bone strength in healing fracture sites.
Another example is the electronic miniature neural interface that can be used in brain-computer interfaces, being developed by Carnegie Mellon Electrical and Computer Engineering Professors Jeyanandh Paramesh and Xin Li, in conjunction with researchers at the University of Pittsburgh.
When normal motor function is impaired by amputation, trauma or disease, devices such as prosthetics and wheelchairs are necessary to interact with the environment. In many cases, the ability of the motor cortex in the brain to generate control signals is not impaired, but the ability to actuate devices using limbs may be severely impaired.
"In collaboration with doctors and biomedical engineers from the University of Pittsburgh, we are developing a brain computer interface (BCI) in which neural signals from the brain are sensed, amplified, filtered and decoded to control prosthetic devices," Fedder said.
Today, with advanced technologies in medical sensors, biocompatible materials, integrated circuits and computational neuroscience, the vision of a BCI microsystem is within reach and can dramatically improve the quality of life, according to Fedder. Such an interface may be easily enhanced or modified to other forms of treatment, such as and deep-brain stimulation for epilepsy.
He added, "This is part of a growing collaboration with other faculty in the center to drive toward more sophisticated miniature implants that provide signal conditioning and computing capabilities."
"We are also very interested in developing collaborations with industry in different application spaces of implantable microsystems," said Fedder, adding that the center acts as a bridge between semiconductor and other technological industries, the biomedical industry and the medical community.
Photographed: Gary Fedder
Related Links: ICES  |  Electrical & Computer Engineering  |  College of Engineering
---