Hard Work Pays Off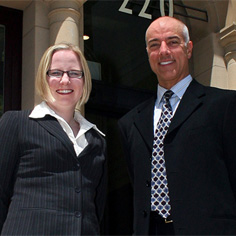 Carnegie Mellon's Heinz College Australia is celebrating the graduation of its first Telstra Media Communications and Technology Scholarship recipient, Megan Boundey.
As a computer systems analyst, Boundey chose the Heinz College's Master of Science in Information Technology (MSIT) Program because it combined her interests in strategy and information technology.
Originally, she planned to pursue graduate studies part time while working full time to pay for her education. However, the Telstra Scholarship made it possible for Boundey to become a full-time student and complete her studies in one year.
"I never even dreamed of the opportunities I would have," Boundey said. "The recruiters at the Heinz College Australia said doors would open, but I didn't realize just how many there were."
"Megan was an outstanding student from the beginning," said Tim Zak, executive director of Heinz College Australia. "The fact that she is being recruited for senior IT roles at global leaders is a testament to her talent, drive and ambition. She has set a high bar for her fellow MSIT students in the Heinz College."
Boundey is excited about the many different options she has to advance her career in information technology.
Telstra, Australia's largest integrated telecommunications company, recognizes the impact graduate-level education can have on future leaders in information technology fields. The company is sponsoring 15 scholarships worth $90,000 each for Australian citizens to attend the Heinz College's MSIT program in Adelaide. Jose Riveras and Jonathon Soong have joined Boundey as Telstra Scholarship recipients. Twelve additional scholarships will be awarded through 2012.
Boundey appreciated the Heinz College Australia's small class sizes and close interactions with professors and her peers.
"The quality of the students is exceptional, and there is a real mateship about the program," she said.
For her final semester, Boundey studied at Carnegie Mellon's Pittsburgh campus. She enjoyed reconnecting with professors who taught in Australia, and she had the opportunity to meet face-to-face with those who taught distance-learning courses.
Boundey also enjoyed immersing herself in American culture, "especially during such an important election year," she said.
And when some students grumbled about the first snowfall in Pittsburgh, she could be spotted trekking across campus with a bright yellow coat and a smile on her face. It was just the second time she's seen snow.
Photo: Megan Boundey (CMU'09) and Tim Zak (Executive Director, Heinz School Australia)
Related Links: Heinz College Australia  |  MSIT
---