Carnegie Mellon, HBCUs Team Up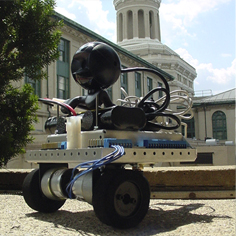 Carnegie Mellon and six other research universities have joined forces with eight historically black colleges and universities (HBCUs) in a collaborative project to promote robotics and computer science education for African-American students.
The Advancing Robotics Technology for Societal Impact (ARTSI) Alliance grew out of a previous collaboration between Andrew Williams, associate professor of computer and information science at Spelman College in Atlanta, and David Touretzky, research professor of computer science at Carnegie Mellon. Together, they established robotics education labs at Spelman and three other HBCUs.
Now — with a three-year, $2 million grant from the National Science Foundation — ARTSI will develop outreach programs to encourage African-American students at both the K-12 and college levels to pursue careers in computer science and robotics. Mentoring programs for undergraduates — as well as professional development activities for HBCU robotics and computer science faculty — will also be provided.
African-Americans account for just 4.8 percent of almost 2 million U.S. computer and information scientists — a job category that the U.S. Bureau of Labor Statistics projects will be among the fastest growing occupations over the next decade.
Touretzky said ARTSI activities will vary from institution to institution, depending on the need.
"Some of these schools are getting their first research-quality robots," he said, adding that those institutions will be developing basic curricula.
By contrast, Spelman and three other schools have already established robotic programs based on Tekkotsu, a robot programming system developed in Touretzky's lab and distributed for free by Carnegie Mellon.
Carnegie Mellon's Illah Nourbakhsh, an associate professor of robotics with special expertise in educational robots and community outreach, and Sara Kiesler, a professor in the university's Human-Computer Interaction Institute, will also participate in the alliance's activities.
Williams will serve as principal investigator and Touretzky as director of robotics education.
Related Links: Read More  |  ARTSI  |  School of Computer Science
---