Taking Breathalyzer to New Heights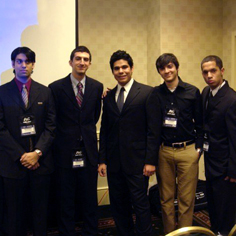 Carnegie Mellon undergrads placed in the top three in a national engineering competition that asked students to design a breathalyzer for airline passengers.
The Carnegie Mellon team designed its "BreathAir" competition entry to help flight attendants monitor passengers' blood alcohol content. Made out of primarily a breathalyzer and a PDA, the device could help prevent discomfort and delays during the flight, as well as prevent potential incidents of driving under the influence after leaving the airport.
"The competition was an amazing opportunity to showcase the skills we have built at Carnegie Mellon," said Steven Ramirez, a senior mechanical engineering student who served as the team leader. "Our six-member team came together with great teamwork to create an innovative product."
Team members will share $2,500 after placing second in the AHETEMS Design Competition at the 31st national conference of the Society of Hispanic Professional Engineers (SHPE) in Philadelphia in November 2007. AHETEMS — Advancing Hispanic Excellence in Technology, Engineering, Math and Science — is the educational foundation of SHPE.
"The most challenging part was working with a device so unfamiliar to us as a breathalyzer,'' said Ramirez, external vice president of SHPE at Carnegie Mellon.
In addition to Ramirez, who is from Powell, Ohio, the other Carnegie Mellon team members included Shameer Bolanos, a junior electrical and computer engineering major from Culver City, Calif.; Reyes Flete, a freshman mechanical engineering major from Bronx, N.Y.; Michael Salame, a senior mechanical engineering major from Norwich, Conn.; and Jorge Villarreal, a junior chemical and biomedical engineering major who is also from Powell, Ohio.
The design competition's other top winners were teams from Stanford University (first place) and San Francisco State University (third place).
Hispanics represented 13.1 percent of the total U.S. labor force in 2005, but only 5.8 percent of engineers in professional jobs nationwide during that same year, according to the U.S. Department of Labor.
Related Links: Society of Hispanic Professional Engineers  |  College of Engineering  |  AHETEMS
---