Technology Delivers Answers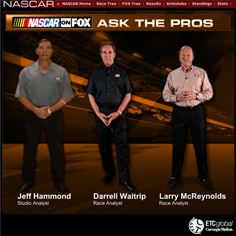 Thanks to technology developed by Carnegie Mellon University's Entertainment Technology Center (ETC), racing enthusiasts can direct their questions to FOX Sports.com on MSN and get a response from a "NASCAR on FOX" analyst.
Using the "synthetic interview" technology, "NASCAR on FOX" analysts Darrell Waltrip, Larry McReynolds and Jeff Hammond can answer each individual's question with a video response — as if they were engaged in a face-to-face conversation.
Got a question?
Got a question? Log onto http://msn.foxsports.com/askthepros, pick one of the three analysts and ask away. The synthetic interview system matches each question with hundreds of responses pre-recorded by the analysts and replays them. Fans can ask questions in whatever order they choose, making each interview unique.
"This is an exciting opportunity for us and the ETC, and it has been a great experience for our team of ETC graduate students," said Scott Stevens, faculty advisor of the "Ask the Pros" ETC team. "The students have been able to participate in the development of cutting-edge, real-world entertainment working alongside the outstanding professionals at FOX Sports and FOXSports.com."
He noted, "We're eager to see how the large television audience responds to the technologies that are coming out of Carnegie Mellon."
Stevens and Carnegie Mellon researcher Michael Christel invented the synthetic interview technology, which lets viewers choose questions from a menu bar or type their own. The interactive program was created for the celebration of the Daytona 500 race's 50th anniversary.
"As a team, the project has given us valuable experience in working with a world-class media outlet," said Kelsey H. Livingston, a graduate student of ETC and producer of the "Ask the Pros" project.
Related Links: Ask the Pros.com  |  Entertainment Technology Center
---