Safer Rescues, Easier Surgeries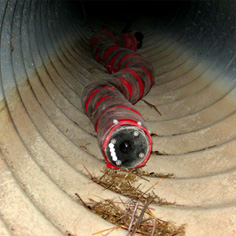 Mention of the word "snake" sends many people running for cover. But the unique slithering qualities that send chills up some spines are of great interest to robotics researchers at Carnegie Mellon.
"There are lots of applications for snake robots," said Howie Choset, an associate professor in Carnegie Mellon's Robotics Institute. "The two I'm most passionate about are medical robotics and urban search and rescue."
Choset is working with Marco Zenati, a cardiac surgeon at UPMC, to create a snakebot that would assist with minimally invasive heart surgery. Some of the benefits that could be associated with such a robot would include reduced risk to the patient, faster recovery time and lower costs.
For example, today a patient's chest is opened up to get to the heart. With a snakebot, the robot can enter through the solar-plexus area, make a one-quarter of an inch turn one way and then another — accessing the back-side of the heart without any effect on the nearby ribs.
"Pittsburgh is one of the few places in the world you can pull this off," he explained. "Here you have Carnegie Mellon's world-class Robotics Institute in such close proximity with a world-class medical center. It's a special location to have."
On the urban-search-and-rescue side, Choset is working with Robin Murphy at University of Southern Florida to create a snakebot that would extend the reach of the rescue workers — minimizing both the risk to the rescue worker and any survivors.
"The idea is that if a building collapses, you only have so much time to find survivors," he explained. "A snake robot can speed up rescue operations by getting into and exploring small openings in the rubble that humans can't."
Choset says his undergrads study four core sciences to make the snakebots work: path planning, control theory, estimation and mechanism design.
"My students do research in these four fields and then go out and apply their research to problems in the real world," he explained.
Related Links: Watch Video  |  Snakebot.com  |  Modsnake.com  |  Robotics Institute
---