Carnegie Science Center Honors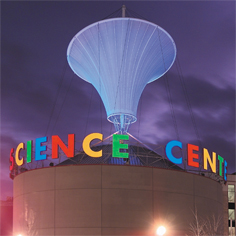 Carnegie Mellon's Robotics Institute, Entertainment Technology Center (ETC) and Physics Professor Tiziana Di Matteo were honored with Carnegie Science Center Awards Friday, May 9. The Robotics Institute received the Chairman's Award, which is the program's highest honor.
"The Carnegie Science Awards program is truly a showcase of regional science and technology," said Joanna Haas, director of Carnegie Science Center. "Certainly, Carnegie Mellon plays a big role in the science/technology arena, and we are thrilled to be presenting our Chairman's Award to the Robotics Institute."
She added, "We're also very happy to be presenting awards to the Entertainment Technology Center in the Information Technology area and to Dr. Tiziana Di Matteo of Carnegie Mellon's physics department as Emerging Female Scientist."
Sponsored primarily by Eaton Corporation, the ceremony included a silent auction, dinner, awards presentation and science demonstrations.
Among the demonstrations presented by Carnegie Mellon were the GigaPan camera technology; Tartan Racing's driverless vehicle "Boss;" robot soccer; and quality of life technologies.
Other Carnegie Mellon projects spotlighted include Beat Bots; Snake Robots; and TeRK Flower.
Lee Gutkind, author of "Almost Human: Making Robots Think," was the keynote speaker. Gutkind's book offers a behind-the-scenes look at Carnegie Mellon's Robotics Institute.
The awards were established in 1997 to recognize and promote outstanding science and technology achievements in western Pennsylvania.
Related Links: Watch Video [.mov]  |  Robotics Institute  |  ETC  |  Tiziana Di Matteo
---