Motorists Get Improved Risk Information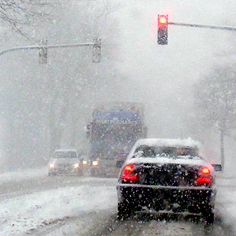 This week Carnegie Mellon researchers are unveiling Traffic STATS — an interactive website developed for the AAA Foundation for Traffic Safety that will arm the public with better information about the risks of hitting the road.
"Generally, people measure safety only by the number of fatalities, but a much better way is to think in terms of risk, for example, fatalities per mile," said Paul Fischbeck, director of Carnegie Mellon's Center for the Study and Improvement of Regulation (CSIR) and professor of Social and Decision Sciences and Engineering and Public Policy.     
The new site details how traffic fatality risks vary by time of day, vehicle type, age and other categories. For example, fatality risks are higher in the summer than the winter. In the mountain states, summer fatality risks are twice as high as the winter months when measured in deaths per passenger mile.
According to Fischbeck, visitors to the website can see that five times more people die in cars than on motorcycles annually, but there are 30 times more deaths per mile on motorcycles than in passenger cars-which means motorcycles are 30 times riskier.
"With Traffic STATS, anyone can compare travel fatality risks across different age groups, regions of the country and other dimensions," Fischbeck said.   
Some other interesting findings:
An 18-year-old male and an 80-year-old female have the same driving risks.
The safest passenger is a 4-year-old strapped in a car seat during morning rush hour.
Male drivers have a 77 percent higher risk of dying in a car accident than women.
The Traffic STATS site is being unveiled at the 86th annual meeting of the Transportation Research Board, Jan. 21-25 in Washington, D.C.
Traffic STATS was developed by Fischbeck and Carnegie Mellon Professors David Gerard and Randy Weinberg, along with consultant Barbara Gengler and a team of student researchers. They calculated their findings from a national database of more than one million demographic variables.  
Related Links: Engineering and Public Policy  |  Department of Social and Decision Sciences
---