Alum Shines in 'Friday Night Lights'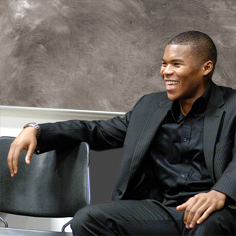 Gaius Charles (CFA '05), who plays running back Brian "Smash" Williams on the NBC television drama "Friday Night Lights," credits a Carnegie Mellon education and fearlessness for his recent success.
"You don't realize how much what you do here will help you in the real world, so don't be afraid to try things while you're here," said Charles, who was in Pittsburgh recently to speak at a Carnegie Mellon reception in honor of Black History Month. He also addressed a class of senior drama students looking to kick-start their careers as quickly as he did. 
Landing a prime-time TV role so soon after graduation was the result of persistence in auditioning, Charles explained. (Don't miss the on-camera interview with Charles.)
"Anybody pursuing a career in this field has to realize, there's competition out here. No one's handing me anything; I have to go out and seek it," he said.
Charles estimates he went to 250 auditions before getting the prime-time part. Expanding on a hit feature film of the same name, the show is a poignant drama that centers on a promising high school football team in the rural town of Dillon, Texas.
Prior to his role on "Lights," Charles received his bachelor of fine arts degree in drama, graduating magna cum laude from the College of Fine Arts. At Carnegie Mellon, he performed in "Candide," "The Wild Party" and "Spunk," the first all-black production in the conservatory's 100-year history.
"I think the biggest stumbling block for an artist is when they don't understand the business aspect of their art," said Charles, who appreciated having access to a top-ranked business school as a drama student. "You can be a great artist but have no business skills and never make it. Being here and being able to dabble in the Tepper School of Business helped me get an education that prepared me for all the challenges I would face in my field."
His advice to Carnegie Mellon graduates: "Go boldly into the industry because you've earned it. You've earned whatever's out there. You hung in there and you made it. Some people are intimidated by this industry because it's so fast and fierce, but realize the training you have and know that you're prepared."

Related Links: On-Camera Interview [.mov]  |  School of Drama  |  Tepper School of Business
---