Solar Competition Inspires Students, Visitors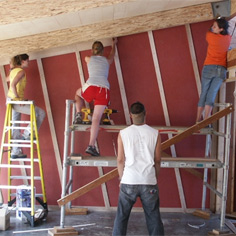 Carnegie Mellon has been selected as one of the 20 collegiate teams to compete in the 2007 Solar Decathlon challenge — where teams leverage technology and design to build attractive and energy-efficient solar-powered homes.
"In more than 25 years of teaching at the college level, I've never before been engaged in a project that has so profoundly affected my students," said Stephen Lee, professor of architecture and lead faculty advisor for the Carnegie Mellon team. "The Solar Decathlon is the hardest thing I've done as a teacher, but when I look in the students' eyes and see how much they've grown and learned, that's all the reward I need."
Bringing together architectural, design and engineering students, the interdisciplinary team will design a solar-powered house on campus.
The team will then work with professional contractors and suppliers to construct the homes according to the students' plans. The competition will culminate with entries being built on the National Mall in Washington, D.C., in the fall of 2007.
This marks Carnegie Mellon's third participation in the contest and the university's first collaborative partnership with another Solar Decathlon team, Germany's Technische Universität Darmstadt.
Sponsored by the U.S. Department of Energy, teams are awarded $100,000 over two years to support the Solar Decathlon's research goal of reducing the cost of solar-powered homes and advancing solar technology.

The house built by Carnegie Mellon's 2005 team currently resides on Carnegie Mellon's Pittsburgh campus near Margaret Morrison Carnegie Hall. It features a rear wall of glass, treating visitors to a breathtaking view that, during competition in Washington, perfectly framed the Washington Monument and the U.S. Capitol.
The 2007 house will be installed at the Powdermill Nature Reserve in Pennsylvania.
"Reaching 150,000 to 200,000 visitors on the National Mall, plus another 10,000 per year at the new house's installation in the Powdermill Nature Reserve, makes this an ideal outreach project," added Lee.
Related Links: Carnegie Mellon Solar Decathlon 2007  |  About the 2005 Project
---