Unique Program for H&SS Students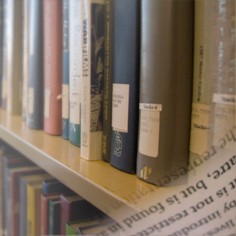 Talented students selected for Carnegie Mellon's Humanities Scholars Program participate in a series of seminars that introduce them to new scholarly work in philosophy, English, history and modern languages.
Launched in 2003, the rigorous, four-year interdisciplinary program is open by invitation to applicants to the university's College of Humanities and Social Sciences (H&SS).
"The program has really begun to produce dividends," said Tim Haggerty, a historian and the director of the program. "We've seen the first scholars really develop intellectually, and help change the culture of the college so it's becoming more cross-disciplinary on the undergraduate level."
In addition to attending seminars together in their first and second year, many Humanities Scholars live in the same housing facility during their first year. This fosters the interaction and critical thinking that Haggerty credits for the students' success. 
These seminars complement a major or minor and help fulfill the students' undergraduate education requirements.  In their senior year, students receive support for research projects in the humanities.
Along with generous gifts from alumni Kim and Eric Giler (H&SS '78 and IM '77) and Howard Ellin (H&SS '85) the program was recently endowed with a $200,000 grant from the Arthur Vining Davis Foundations.  Haggerty is pleased to have received this kind of support so early in the program's history.
"We have a very distinguished faculty in H&SS who have really helped redefine their respective fields and who have very creative ideas about teaching in the humanities," said Haggerty. "This grant will allow a number of them each year to create innovative new courses for our humanities students. It's a wonderful vote of confidence in the whole humanities initiative."
The program is one of four undergraduate programs that draw upon the university's reputation for interdisciplinary rigor and innovation.
Others include:
the Science and Humanities Scholars Program, directed by William Alba, which is run jointly by the College of Humanities and Social Sciences (H&SS) and the Mellon College of Science;
and the Bachelor of Humanities and Arts and Bachelor of Science and Arts programs (BHA and BSA), which are independent degree-granting programs directed by Franco Sciannameo in the College of Fine Arts.
These programs continue to foster cross-disciplinary interaction among humanities departments and between the college and other university programs. 
Related Links: Humanities Scholars  |  BHA and BSA Programs  |  Science and Humanities Scholars Programs