Audience Leaves Wanting More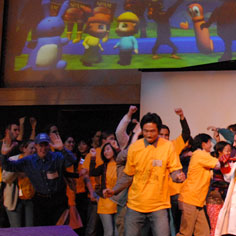 It was standing room only at the recent Building Virtual Worlds  showcase where more than 500 industry executives, project sponsors and members of the campus community immersed themselves in virtual worlds created by Carnegie Mellon students.
"This show was one of the best ever," said Professor Jesse Schell at Carnegie Mellon's Entertainment Technology Center (ETC), who is teaching the course. "I can't believe the creativity, and technical and artistic skill that the students are able to bring to the class."
Created by ETC Co-Founder and Professor Randy Pausch, Building Virtual Worlds is a course through which interdisciplinary teams build helmet-based, interactive virtual worlds and a variety of other interactive content.
Using ETC platforms — such as the Jam-O-Drum and Quasi the Robot — the course takes students with varying talents, backgrounds, and perspectives and puts them together to do what they couldn't do alone.
"We don't try to teach artists to program or engineers to paint," said Pausch. "We form teams where everyone does what they're already skilled at to attack a joint project." He added, "There are no 'idea people' in the course. Everyone must share in the mechanical creation of the worlds."
The course culminates in a raucous stage show, where students "perform" their worlds in front of a live audience. A juried selection of the best work is shared with the campus community.
Executives from such companies as Activision, DreamWorks and Walt Disney Imagineering arrived in Pittsburgh to attend the Dec. 2006 show, tour the Entertainment Technology Center (ETC) and interview ETC students for job openings and internships.
"The future of entertainment technology is brilliant as evidenced by the inventive and ambitious student projects presented at Building Virtual Worlds 2006," said former Pennsylvania State Rep. Mike Veon. "Implications for the future were clearly demonstrated through the artful and gifted utilization of emerging technologies."
Interviews offered to ETC students after the show included professional and internship opportunities in areas like game design, animation, programming, new technology and game engine programming.
"Building Virtual Worlds 2006 represented exactly what one should expect from Carnegie Mellon Entertainment Technology students," said Julie A. McKenzie, a consultant for education, economic development and government affairs who attended the event. "Exuberant visual experiences that challenge and inspire. One extraordinary creation after another that left you wanting for more."
---