A Fine Arts and Mechanical Engineering Production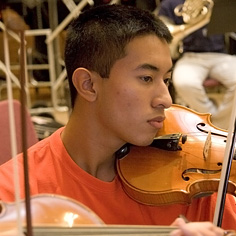 It's 4 a.m. and Carnegie Mellon College of Fine Arts Professor Riccardo Schulz, an early bird, is deep in conversation with Alex Geis, a recent mechanical engineering graduate and self-professed night owl. The two are planning next steps for their online innovation, The Destination, a project Geis and Schulz co-invented that puts the university's School of Music students on a world-wide-web stage.

Initially, Professor Schulz was looking to provide Carnegie Mellon musicians with a way to record and broadcast their work across the globe. Geis would build a one-of-a-kind solution.
"An engineer's job, whether a mechanical, electrical or music engineer, is to solve problems," said Schulz. "And Alex did. In fact, he hasn't stopped."
The Destination launched in early 2005, and the interdisciplinary duo continues to develop the project. Now any performance can be broadcast from anywhere in the university via an automated system that uses near DVD-quality recording.  
"The last time I counted, we had about 200 concerts and recitals in our library," said  Schulz. "Carnegie Mellon is the only university I know of with a tool like this. Now parents in Taiwan can watch their child's recital live from another continent."
Due to privacy and copyright rules, The Destination broadcasts live performances to all viewers and stores most past performances in password-protected archives. Students can give access to friends, family and prospective employers. However a handful of performances, linked below, are available for all to see.
"The beauty of the system is that it can mature as technology progresses," said Geis, who graduated from Carnegie Mellon in 2004. "My personal goal is to develop a subscription system that would let students receive high quality audio and video straight to any mp3/video player, like the Apple iTunes store works today."
Related Links: The Destination
---