Local Artists Get Support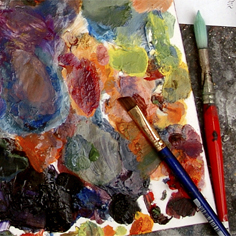 Artists living and working in Pittsburgh will get critical support as the result of a new initiative called the Creativity Project. Carnegie Mellon University's STUDIO for Creative Inquiry has been selected as the host institution for the project's pilot phase.
In an extensive study, local artists and arts organizations expressed a need for new strategies to cultivate innovation and broaden support for their work citywide. The solution: the Creativity Project, funded by The Heinz Endowments and The Pittsburgh Foundation.
"We are pleased that the STUDIO's ongoing support of artists has been recognized by The Heinz Endowments and The Pittsburgh Foundation, and that they have entrusted the Creativity Project to us," said Hilary Robinson, dean of Carnegie Mellon's College of Fine Arts.
Germaine Williams, a graduate of the Master of Arts Management program at Carnegie Mellon's Heinz School, will direct the project. Williams will be leading the project's efforts to research and implement ideas that enrich the environment for independent artists in Pittsburgh.
Proposals for the project were accepted from nine cultural organizations in Pittsburgh before the STUDIO was selected. Carnegie Mellon's STUDIO has a history of supporting interdisciplinary artists and their projects including the Nine Mile Run Greenway Project and the Persephone Project.
"The STUDIO believes that artists can and do play a very significant role in transforming the region, especially if they are assisted in accessing tools, technology, advisors and resources of the larger community," said Margaret Myers, associate director of the STUDIO.

Related Links: STUDIO for Creative Inquiry  |  College of Fine Arts  |  Heinz School
---