Drama Program Plants Seeds of Confidence, Courage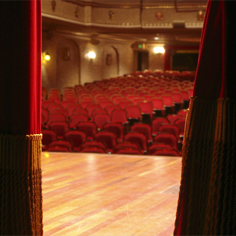 Students at Carnegie Mellon are sharing their theater skills with at-risk middle school children from Propel Charter Schools. Through "Growing Theater" — a community outreach program in Pittsburgh directed by Carnegie Mellon's Anne Mundell — the student mentors are helping the children write, produce and perform their own play.
"At Carnegie Mellon, we are given the gift of exploring our art form, or other disciplines, and discovering the world through countless opportunities," said Mundell, associate professor of scene design. "I firmly believe that we are responsible to give that gift back to the greater community, which is why I am such a strong advocate of 'Growing Theater' and the many outreach opportunities at the university."
After the play is written, the children audition for parts, memorize lines, rehearse and work to develop the characters they play. They also work with the mentors to design scenery for the stage. Faculty guests from Carnegie Mellon's School of Drama introduce the children to other elements of theater such as dance, rhythm and movement.
It's a seven-month process that concludes with performances for the children's parents, teachers and members of the Carnegie Mellon community.
Mundell confessed that the program has a secret agenda. "We don't tell the kids about the fact that they are actually learning about collaboration, respect for those around them and advocating for ideas," she said. "They learn about being able to speak confidently in front of others. They learn about taking creative risks."

Mundell recently worked with fifth graders at the Propel Charter School in Homestead, Pennsylvania. 

"One of the primary goals they have at that age is not to embarrass themselves in front of their peers," Mundell said.
"So, I think that the courage they develop to stand up and become an elephant or become a snail — or whatever character they are playing — can be really useful to them and hopefully allows them to consider the idea that striving to be cool or go with the mainstream might not encompass the most fulfilling set of objectives."


Related Links: Interview [.mp3]  |  Website  |  School of Drama
---