Inductees Announced for 2007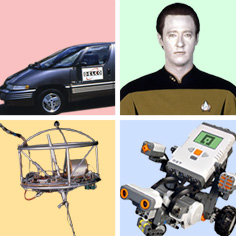 LEGO Mindstorms, NavLab 5 and the Raibert Hopper will take their place in Carnegie Mellon's Robot Hall of Fame in 2008, as will fictional robot Lt. Cmdr. Data from Star Trek. The new inductees were announced May 15 at the RoboBusiness Conference in Boston.
Matthew Mason, director of the Robotics Institute, describes LEGO Mindstorms as the robotics kit "that has ushered thousands of children into the robotics age" while NavLab 5 is a minivan that can steer itself.
"Navlav 5's biggest accomplishment was a drive from Pittsburgh to San Diego called 'No Hands Across America,' on which the robot steered itself for 98 percent of the way," Mason said.
He recalls the Raibert Hopper as a visionary machine that launched a whole new approach to robotic locomotion. It had just a single leg — like a robotic pogo stick — but the principle it used to stay upright, called dynamic balance, can be used to make any legged robot move faster and more gracefully.
Lt. Cmdr. Data will join several other fictional robots previously inducted into the Robot Hall of Fame — including C3PO and R2D2 from Star Wars.
Carnegie Mellon's Robotics Institute was established in 1979 and is recognized as a world leader in the field.
Photographed (clockwise from top left): NavLab5, Lt. Cmdr. Data (Star Trek), LEGO Mindstorms and the Raibert Hopper.
Related Links: Robotics Institute  |  ETC  |  School of Computer Science
---