Surgeons Apply Engineering Principles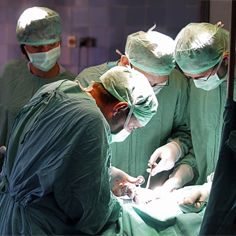 Over the past 10 years, the Pittsburgh region has become a world leader in research and education for medical robotics and computer-assisted surgery.
Carnegie Mellon's Medical Robotics Technology Center (MRTC), in particular, brings together surgeons, engineers and computer scientists to solve unique medical problems.
"When we talk about medical robotics, we're not talking about replacing doctors and surgeons and the techniques and skills they bring, but complementing them," said Carnegie Mellon alumnus Tony DiGioia III (E '79, '82), who played a critical role in establishing the MRTC. "We are harnessing and extending robotics and information technologies to deliver superior healthcare."
A former Tartan football player and civil engineering major, DiGioia was always interested in the mechanics of the body. In the process of tending to an injured knee, he was given an opportunity to observe surgeons in the operating room.
"My master's thesis was in applying front-end element techniques — which are techniques used to design bridges and buildings and other structures — to design a new kind of hip replacement implant," DiGioia said.
DiGioia's experiences watching surgery, combined with doing rounds in the hospital and working side by side with surgeons, led him to Harvard Medical School.  
"I felt that the biggest impact I could have would be as a person that could talk and walk both sides, as an engineer and as a surgeon," DiGioia explained.
He returned to Pittsburgh to practice, and to Carnegie Mellon to develop a program that would combine the power of engineering with the power of all the new things that were happening in orthopedic surgery. The MRTC he helped to establish was one of the first of its kind in the country.
He added, "It's the idea of taking the best of what a machine can do and combining it with the best of what a surgeon can do, and doing a task better than either could do it alone."  
---