Immersing Heinz Students in the Entertainment Industry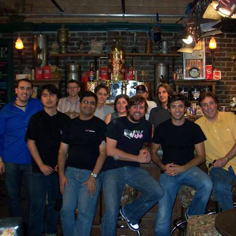 It was an unusual idea: Carnegie Mellon Heinz School students relocating to North Hollywood for their second year of study. But 10 adventurous students did exactly that.
They are now the first graduating class in the Master of Entertainment Industry Management (MEIM) program — a unique program jointly offered by the Heinz School and the College of Fine Arts.
The idea was inspired by a few successful Master of Arts Management (MAM) graduates who found they faced a steep learning curve in the for-profit sector.
The solution? Going on location in the heart of the entertainment industry.
The new MEIM program consists of students spending their first year on Carnegie Mellon's Pittsburgh campus and their second year in Los Angeles. In the industry's hub, they attend classes and work nearly full-time in the executive offices of film studios or television production companies.
The MEIM Class of 2007 also found themselves in another industry hot spot — Manhattan. Before relocating, they spent six weeks interning at Steiner Studios in New York City, a state-of-the-art film and television productions facility founded by Carnegie Mellon alumnus David Steiner (E '51).
"We are very excited by the response we have received to the MEIM program," said Heinz School Associate Dean Dan Martin, who co-founded the program. "Plus the positive support we are receiving from employers, and alumni like David Steiner and those in L.A., has shown us that people really value the training the MEIM program offers — skilled managers who are not afraid to take risks for a worthwhile creative idea."
The L.A.-based internships include assignments at Sony Pictures, ICM, Focus Features, Universal Studios, Warner Bros. Studios, Fox Television, Yahoo! Music and United Artists.
Photographed: MEIM Class of 2007

Related Links: For More Info  |  Heinz School  |  College of Fine Arts
---