Students Find Recording Studio to be Interdisciplinary Hub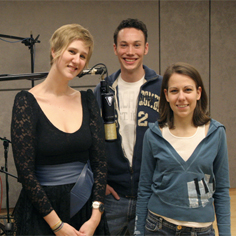 "Check. One, two...check," echoes the voice of Carnegie Mellon vocal student Anna Vogelzang. While this may be a typical day in the university's recording studio, this is not your typical microphone.
It was custom-built by engineering student Eric Boulanger — who studied top-quality microphones on the market with the eventual aim of making something that out performed them all.
"One summer, I was playing around in the Electrical and Computer Engineering Department and I decided to look into putting a microphone together," Boulanger explained. "As a recording engineer, I'm always thinking about how we can make good equipment even better."
After some initial corrections to eliminate interference from a local radio station, he brought the high-performing mic into the studio. Vogelzang took it for a test drive on the project Boulanger was engineering for her — her second full-length CD called "The Things That Airplanes Do." There, the two worked together to make a few more adjustments geared toward getting the best sound for her vocal range.
Boulanger confesses that it's an art to getting a mic to sound good. "As high-tech as a microphone might seem, good results really come through trial and error," he said. "It's not like there's a simulation or computer to go by."
The creation evolved into a research project for Boulanger, who enlisted art student and music minor Ali Spagnola to design a logo and some of the mic's aesthetic features. In return, Boulanger volunteered to engineer her CD project.
Spagnola is thrilled to be at a university where there are so many talented people with whom to barter services. "It's so great to be able to do what you love knowing that, whatever you need, there is always someone just around the corner who can help."
Boulanger and Vogelzang recently mastered "The Things That Airplanes Do" at Capitol Records in Los Angeles. Vogelzang will present the project — which is also her senior thesis — at Meeting of the Minds. The CD can be found in Pittsburgh at Desolation Row on Craig Street and Paul's CDs in Bloomfield.
Photographed (left to right): Anna Vogelzang, Eric Boulanger, Ali Spagnola.
Related Links: Anna Vogelzang  |  Ali Spagnola  |  Meeting of the Minds  |  ECE  |  CFA
---