Will Lead Carnegie Mellon Through Next Five Years of Growth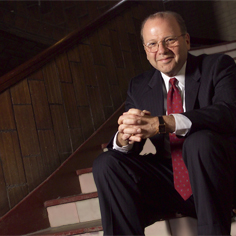 Carnegie Mellon's Board of Trustees has approved the reappointment of Jared L. Cohon to serve a third five-year term as university president.
"Jared Cohon has taken this university to new heights and overseen tremendous growth in education, research and development," said Carnegie Mellon Chairman of the Board David Shapira.  "I don't believe there's a better person to lead this great university."
Cohon became Carnegie Mellon's eighth president in 1997 and was reappointed in 2002. The reappointment was recommended by a 12-member Presidential Review Committee.
"I am delighted to have the opportunity to lead Carnegie Mellon for the next five years," Cohon said. "Innovation, problem-solving and collaboration have shaped this institution for 107 years and characterize our success today as one of the world's leading research universities. Now more than ever, these strengths match-up with important, emerging needs in our complex world."
Carnegie Mellon has advanced significantly in Cohon's 10 years as president. During his tenure, Carnegie Mellon's curriculum has been recognized for its interdisciplinary focus and attention to ethics, environmental studies, global awareness and innovation.
Carnegie Mellon accomplishments during Cohon's first two terms in office include:
shepherding great global strides — taking the university from offering only one degree-granting program in three countries outside the United States in 1997 to today's 12 such programs in 10 countries;
being rated one of the "Top 100 Global Universities" by Newsweek magazine;
nearly doubling the number of undergraduate applications received in 2007 compared to 1997; and
advancing the university's technology transfer operation, leading from two new start-ups in 1997 to 14 new start-ups in 2006, an all-time high for Carnegie Mellon and among the highest rates in the nation.
For a snapshot of Carnegie Mellon's accomplishments between 1997 and 2007, read Carnegie Mellon By the Numbers [.pdf].
Cohon also served as chairman of the federal Nuclear Waste Technical Review Board, to which he was appointed by President Bill Clinton, and is a member of the executive committee on the Council of Competitiveness. In 2002, President George W. Bush appointed him to the Homeland Security Advisory Council.
Cohon came to Carnegie Mellon from Yale University, where he was dean of the School of Forestry and Environmental Studies and professor of environmental systems analysis. He joined Yale after 19 years at Johns Hopkins University, where he rose through the faculty ranks to become associate dean of engineering and vice provost for research.
Related Links: Press Release  |  By the Numbers [.pdf]
---