Glover, Drummond Honored with Grad Student Awards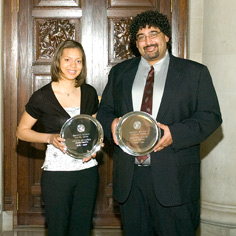 Two exceptional Carnegie Mellon graduate students received awards this week for their commitment to teaching and community service. Geoffrey Glover, a Ph.D. candidate in the English department, and Arielle Drummond, a Ph.D. candidate in biomedical engineering, were honored during a ceremony April 2.
"[Geoff] gives constantly of himself in the form of in-class preparation, course materials and one-on-one instruction," said English Professor Kathy Newman, director of the Literary and Cultural Studies program. "He is both rigorous and laid-back. His classes are both fun — as many students testify — and highly challenging. He is a model for the kind of teacher I would like to work harder to become."
One student commented, "[Geoff] is the embodiment of what teachers should be: motivators who find ways to make every student feel connected to the material they are teaching."
Drummond has been described as "service personified" by Nancy Klancher, director of the Graduate Programs Office.
Drummond is president of the Black Graduate Student Organization; a peer mentor in the Graduate Programs Office; and has been a key player in recruiting efforts for the College of Engineering and the university. She's also a member of the President's Diversity Advisory Council and serves on its graduate student retention workgroup.
"I have been working with graduate students for close to 15 years, and I have never seen a graduate student demonstrate such balance, energy, commitment, easy generosity and self-effacing service." Klancher said.
Kurt Larsen, assistant dean of the College of Engineering, called Drummond "stellar."
"I've come across only a few students as stellar as Arielle," said Larsen. "She provides welcomed insight and support to new graduate students who come from allover the world, sometimes to the U.S. for the first time. It's a comfort to know that there are students like Arielle on our campus who — amidst the incredible demands of school and research — have the desire to make the time to help others."
Receiving honorable mentions for their contributions to teaching were Michael Benisch in the School of Computer Science and Tiago V. Maia in the psychology department. Honorable mentions for service went to Aurora Sharrard in civil and environmental engineering and Zebulun Krahn in the physics department.
Held as part of Graduate Student Appreciation Week, the ceremony's keynote speaker was Carnegie Mellon alumnus Daniel H. Wilson, author of the book "How to Survive a Robot Uprising: Tips on Defending Yourself Against the Coming Rebellion."
Related Links: Grad Student Admission  |  English Dept  |  Biomedical Engineering
---