Interactive Game Unveiled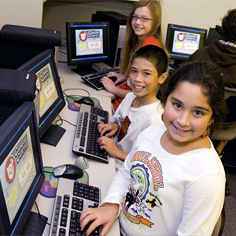 Pennsylvania Attorney General Tom Corbett and students at a Pittsburgh area elementary school recently helped demonstrate a new interactive cyber safety game created by Carnegie Mellon's Information Networking Institute (INI) and Carnegie Mellon CyLab.
"Carnegie Cadets: The MySecureCyberspace Game" teaches upper elementary school children fundamental skills, such as how to spot spam and how to keep personal information private. It also teaches them how to identify website traps, like dangerous pop-up windows, forms requesting personal information and inappropriate web pages.
In the game, children enter a cyber academy to take on missions that teach them how to secure cyberspace by fighting Internet criminals with memorable names like Elvirus and MC Spammer. Children get points for completing the missions and teaching other cadets what they learn about cyber threats. They can use those points to buy virtual items to decorate virtual dorm rooms.
Through the game, young players learn to be safe, educated cyber citizens before entering the Internet on their own.
Enriched with content and classroom material that complies with the National Educational Technology Standards, the game is ready to be adopted by elementary schools during the 2007-2008 academic year.
The U.S. Department of Education's goal of securing the nation's cyberspace is the impetus for the game, according to INI Director Dena Haritos Tsamitis.
"The key is to keep your children interested by teaching them interactively and keeping that balance between fun and learning," said Tsamitis. "Children learn about the benefits of cyberspace but also learn about what risks are associated with being online."
The game's companion website, "The Carnegie Cyber Academy," which features interactive learning activities related to Internet safety, was also unveiled at the elementary school demo.
Photographed: Students from J.H. Brooks Elementary School in the Moon Area School District, located outside of Pittsburgh, Pennsylvania.
Related Links: Carnegie Cyber Academy  |  MySecureCyberspace.com  |  Special Edition  |  News Clip
---