Introducing the Gigapan Camera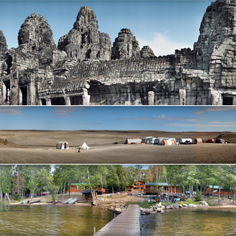 Angkor Wat (top), Arctic Camp (middle), Shangri la Resort from the Deck (bottom)
After a two-year collaboration with colleagues at NASA's Ames Research Center, Carnegie Mellon University scientists unveil their Gigapan camera system this week. It's a robotic device that attaches to any digital camera. The device enables the public to shoot interactive, multi-billion pixel panoramas that can be explored in great depth on the Internet.
"We are going to change the way people browse for exploration, discovery and cultural understanding," said Carnegie Mellon's Illah Nourbakhsh, an associate professor of robotics. Nourbakhsh is co-director of the Global Connection Project, with project scientist Randy Sargent of Carnegie Mellon West.
Through a new initiative with UNESCO, children in different parts of the world will use the Gigapan camera to learn about their neighborhoods and each other's cultures. The Pennsylvania Board of Tourism is using Gigapan technology to let people everywhere explore the commonwealth's Civil War sites.
"The battlefield is such an enormous space that even people who have visited it numerous times keep finding new things," said Carnegie Mellon's Laura Tomokiyo, a Language Technologies Institute alumna and a scientist with the Global Connection Project.
Gigapan technology enables a digital camera to take dozens — even hundreds — of photos of a scene that can be electronically stitched together to create a panoramic computer image that users can examine in great detail on a public-accessible, dedicated website.
The project is a joint initiative of Carnegie Mellon, NASA, Google and National Geographic.
Image of Angkor Wat by James Bell; Image of Arctic Camp by Lorenzo Flueckiger; Image of Shangri la Resort from the Deck by Daniel Clancy.
Related Links: View Panoramas  |  Gigapan.org  |  Related Story  |  School of Computer Science
---