Alum Helped Create Visionary Product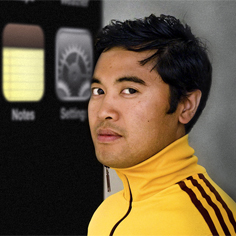 When Apple first conceived the making of the iPhone, Carnegie Mellon alumnus Freddy Anzures (A '99) was there. One of the few selected to design this visionary product, Anzures recently visited Carnegie Mellon's campus to talk about what he's been up to post-graduation.
"I was lucky to be in the right place at the right time," he said. "To be one of the chosen few involved in the creation of such a revolutionary product was truly an honor."
But behind the scenes, he says it was an arduous process that involved years of shrouding the team's work in secrecy and countless nights without much sleep.
"The team's hard work will continue to be justified by the way the iPhone has made history and the influence it has had, and will have, on the world."
Anzures says timing played a similar role during his college days at Carnegie Mellon. "Timing is everything," he explained. "I was very lucky to have had professors who were doing great work in the industry at the time and were infusing those experiences in the studio."
He also considers himself fortunate that he was surrounded by talented people in his class who were willing to explore, experiment and have fun.
"The environment at Carnegie Mellon provided a place for me to challenge myself and the preconceived notions of my major and school," Anzures said of the university and its School of Design. "Not only did I take design classes, but I took classes in art history, business, engineering, film, music, philosophy and psychology. These classes not only affected the outcome of my projects, but also affected my outlook on solving problems creatively from different perspectives."
Anzures is a designer in the Human Interface Group at Apple, the team responsible for Mac OS X and the iPhone.
"We work and play on what you work and play on," Anzures said.
Related Links: School of Design  |  College of Fine Arts  |  iPhone
---