An Integrated Focus on Design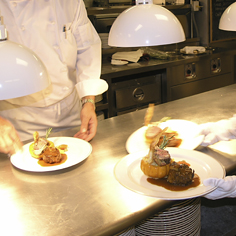 Good design is more than aesthetics. To gain market edge, a product's design must also integrate functionality with what consumers want.
Students who sign up for the next Integrated Product Development course will find commercial kitchen design to be their focus. This spring's class project will address the challenges faced when restaurant owners and chefs aim to prepare a wider variety of menu selections in smaller spaces.
"Businesses today must create new successful products in order to stay competitive in the marketplace," said Peter Boatwright, who teaches the marketing aspect of the course. "Our students learn a systematic process for product innovation that they can take to their jobs when they leave."
Boatwright will teach in collaboration with colleagues Jonathan Cagan, from the Carnegie Institute of Technology; Laurie Weingart, from the Tepper School of Business; and Eric Anderson, from the College of Fine Art's School of Design. Together, the team of faculty and students will look at the performance, aesthetic, ergonomic, interaction and business aspects of future commercial kitchens.
Weingart described the course as not only an opportunity to gain hands-on experience but also to learn how to capitalize on the diversity of the team through collaboration, teamwork and group problem-solving.
Cagan added, "This will be a very exciting and forward-thinking project that not only explores an interesting interdisciplinary topic, but addresses a new level of design in a business-to-business environment."
After performing research into customer needs and industry requirements, the students will conceptualize and refine designs. The final product will be a single design detailed for functionality and style — complete with prototypes and market plan.
Related Links: The Design of Things to Come  |  Truck Sweet Truck
---