Linguistics Competitors Wanted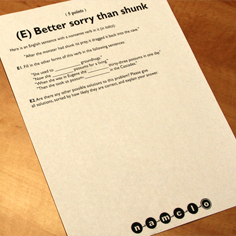 Carnegie Mellon will host the North American Computational Linguistics Olympiad Feb. 5, 2008. The university is looking for high school students whose interests in language, math and computers could make them top competitors in the event.
Lori Levin, associate research professor at Carnegie Mellon's Language Technologies Institute, is one of the Olympiad's two general chairs. The competition introduces talented students to the emerging field of computational linguistics. So, students without prior knowledge of the field are more than welcome to compete.
Training will also be made available for students and schools who express interest.
Computational linguistics, which applies computational methods to the study of languages, encompasses areas such as search engines, computer translation and voice-recognition systems.
Interested competitors will take a pencil-and-paper test. Those scoring in the top 25 percent will return March 11 for an invitational round. Winners will be eligible to compete in the International Linguistics Olympiad this summer in Bulgaria.
In 2007, a U.S. team that included a student from Pittsburgh's Shady Side Academy tied for first place in team competition, and a U.S. student had the highest individual score at the international event.
For more information and to see sample problems, visit www.naclo.cs.cmu.edu/. To schedule a training or informational session, contact Mary Jo Bensasi of Carnegie Mellon's Language Technologies Institute at maryjob@cs.cmu.edu or 412-268-7517.
Related Links: Language Technologies Institute  |  School of Computer Science
---