Exploring New (& Old) Horizons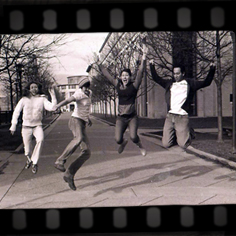 Just before the start of spring semester, Carnegie Mellon students participated in SUMMIT — a three-day program of courses, seminars and workshops on topics they may not explore within their majors.
Undergrad Mena Assad came all the way from Carnegie Mellon University in Qatar to join in the fun.
"I found the classes to be exquisite, informative and fun," said Assad. "The interaction with diverse students from different disciplines was the best part."
Among the classes Assad chose were fine arts and personal finance courses.
"I have always been fond of photography but had never done any black-and-white photography before," said Assad. "I haven't painted in oil since I was 12 and the oil painting class helped me get back on track with this old passion. I loved [it]."
Organized by students for the campus community, this free event is also sponsored by the Graduate Student Assembly, the Student Senate, the Student Dormitory Council, the Office of the Dean of Student Affairs and the Student Development Office.
Classes offered through SUMMIT have included acrylic painting, juggling, poker, Reiki massage, Chinese lantern-making, auto mechanics 101, West African dance, glass-blowing and improvisational comedy, among many others.
"Qatar students who go to SUMMIT not only get to experience a broad range of topics, but they get to do it alongside students they've never met before from cultures they don't normally engage with in Doha," said Darbi Roberts, a student development coordinator for the university.
Photos by Mena Assad, from the black and white photography class.
Related Links: Student Affairs  |  Carnegie Mellon in Qatar
---