Alum Pursues Passion for Tailoring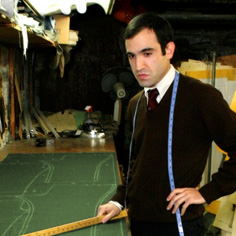 Joe Genuardi was planning to move to Italy when he learned of Centofanti Custom Tailors shop just outside of Philadelphia. The Carnegie Mellon School of Design grad was searching for a mentor, and he found exactly that in world-class tailor Joseph Centofanti.
"I drove there on a Sunday just to check it out," recalled Genuardi. "The store was supposed to be closed, but Mr. Centofanti was inside and motioned me in. I couldn't believe his first impression of me was going to be in jeans and an old sports jacket!"
The two sat on an old wooden bench inside the shop for an hour or so that morning. They talked about building trust with clients and never sacrificing quality — values that have become the foundation of Genuardi's apprenticeship at the shop.
The shop itself is purely utilitarian: cloth books, fitting rooms, sewing machines, work tables and presses. Sewing machines hum like a bee swarm punctuated by the thump of the large press machine and its subsequent whistle of steam being released.
Genuardi enjoys carrying on traditional techniques of construction, fitting and design — techniques that have been all but lost to a generation of mass-production geared consumers.
"Having something custom-made for yourself is a very rewarding process and I think the men and women who come to us feel like they are getting something very special," Genuardi said.
He compares his interaction with Centofanti to that of a professor and student.
"The feedback I get is always candid, to say the least. Mr. Centofanti doesn't beat around the bush, and I don't like to either," he said. "During the day it's all business — quick questions and answers unless Mr. Centofanti is walking me through a process as he works on it. There's always a lot of work to get done."
But at the end of the day, there is usually an opportunity for Genuardi to show Centofanti something he's working on at home and get feedback on it.
Building on a world-class experience at Carnegie Mellon, Genuardi doesn't think he could get this kind of mentorship anywhere else. He values Centofanti's willingness to pass on knowledge and experience like an ancient language that might otherwise be lost forever.
"As a tailor, I'm being raised among the best."
Related Links: Genuardi on NPR  |  School of Design  |  College of Fine Arts
---