Carnegie Mellon in the Community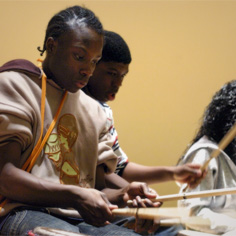 Carnegie Mellon's influence on education in the Pittsburgh region reaches beyond its own students to K-12 students and their teachers in many area school districts. In fact, Carnegie Mellon's Leonard Gelfand Center for Service Learning and Outreach helps to coordinate more than 80 opportunities for students and teachers a year.
To increase awareness and showcase its efforts, the Gelfand Center recently sponsored the inaugural Carnegie Mellon in the Community celebration. The event started with a bang, so to speak, with a World Drumming presentation.
The traditional and contemporary African music was performed by teacher Shawn Van Mastrigt and eight of his students in the nearby Wilkinsburg School District. The students have benefited from a School of Music project that provided the set of drums for their use and trained their teachers in the World Drumming curriculum.
At the event were representatives from organizations ranging from the sophomore service fraternity Lambda Sigma to FORGE, a student group that assists refugees in the Pittsburgh community to Carnegie Mellon's chapter of Students in Free Enterprise. SIFE has launched a number of ambitious projects, including a spring break trip to Nicaragua, where they worked with local farmers on infrastructure improvements and trained them in financial skills.
"Our mission has been empowering people through active service," said SIFE President Sanya Gurnani, a junior in the Tepper School of Business. "At the end, we should feel like we've made an impact — and, hopefully, a sustainable one."
Faculty, staff and students participated in panel discussions on the reasons they participate in community service and outreach activities.
"Education is part of what drives me," said Alicia Brown, external relations and outreach coordinator for the Institute for Complex Engineered Systems. "Trying to make opportunities for kids in the next generation is so important."
The event drew interest from local elected officials, including Councilman Bill Peduto, who noted Carnegie Mellon's commitment to service.
"The university understands that it's a partner within the city that can make a difference in creating a better society by reaching out to underserved communities," Peduto said.
Related Links: Gelfand Center  |  ICES  |  SIFE
---