Volunteering Benefits Community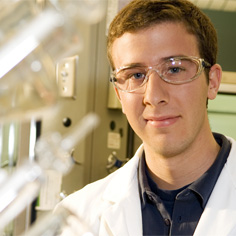 From tutoring to holding local blood drives, the Mortar Board Society scholars dedicate themselves to leadership and service.
As president of the Carnegie Mellon chapter, Stephen Brunner (MCS '08) sees to it that all members get an opportunity to contribute their talents to projects in the community.
"Mortar Board is a great way of recognizing students who excel in and out of the classroom," said Brunner, who will graduate in the spring from the university's Science and Humanities Scholars (SHS) program.
Brunner added, "Mortar Board is also a great way for seniors to give back to the community — whether it's through collecting books, working at animal shelters, or raising awareness for literacy."
And fun is often a part of the picture. In the fall, the chapter held its annual "Turkey for a Day" event. A Carnegie Mellon Mortar Board tradition, a student contributing a dollar gets the chance to vote on which professor will wear a turkey costume for a day.
Proceeds went to the Carnegie Mellon Thanksgiving Baskets Charity, providing underprivileged families with a Thanksgiving meal. Sam Spath coordinated the 2007 event — and Professor Stephen Neely was the lucky winner.
On Feb. 8, senior Emily Newman coordinated a Mortar Board-sponsored a blood drive to kick off National Mortar Board Society Week, which lasts until Friday, Feb. 15.
"The beauty of Mortar Board is that we are students from virtually every discipline — 47 students total — and that each Mortar Board member has the opportunity to lead a project of his or her choice throughout the year," Brunner said.
Juniors at Carnegie Mellon's Pittsburgh campus who are interested in becoming a member of the Mortar Board Society can attend an information session Feb. 13 at 7 p.m. in University Center's Dowd room to learn more.
Mortar Board has 223 chartered chapters nationwide. Notable members have included astronaut and Carnegie Mellon alumna Judith Resnick; best-selling author and alumnus Aron Ralston (E '97); professional football player Drew Brees and Secretary of State Condoleezza Rice.
Related Links: Learn More  |  Science & Humanities Scholars Program
---