Reaccreditation Team Visits Campus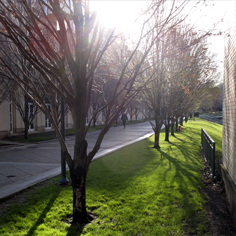 Carnegie Mellon is hosting Dr. James Wagner, president of Emory University, and a team of higher education professionals this weekend as part of the reaccreditation process.

The Middle States Commission on Higher Education team is visiting the Pittsburgh campus Feb. 24-27 for Carnegie Mellon's 10-year reaccreditation site visit.

"Accreditation is an important part of the self-regulation of the higher education system of the United States," said Dr. Jared L. Cohon, President of Carnegie Mellon. "We have spent two years preparing for this review, and we have learned a lot as a result of the questions posed to us. We see this as another way to assure the high quality of a Carnegie Mellon education."

Cohon added, "We are delighted to welcome Jim Wagner and the rest of the Middle States visiting team on campus, and we look forward to some good discussions and exchanges in the next few days."

The team will hold an open meeting for all students at 4:30 p.m. on Monday, Feb. 25, in the Peter-Wright Room at the University Center. An open meeting for faculty and staff will be held Tuesday, Feb. 26, at 9:30 a.m. in Posner Hall's Grand Room, on the third floor of the Tepper School.

Carnegie Mellon's Reaccreditation Self Study Steering Committee was co-chaired by Gloriana St. Clair, dean of University Libraries, and by Russ O'Lare, director of University Planning.
For more information on the Middle States process, Carnegie Mellon's Self-Study, and a list of the team members, visit: www.cmu.edu/middlestates.

Related Links: Middle States  |  About Carnegie Mellon
---