President Cohon Addresses Recent Events on College Campuses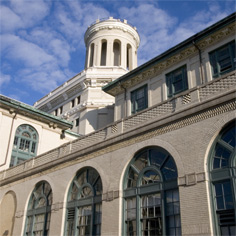 The higher education community has been saddened once again by tragic events on college campuses, most recently at Northern Illinois University (NIU).  I have expressed our condolences to the president of NIU for the tragic loss of life on his campus and extend our sympathies to those students, faculty and staff at Carnegie Mellon who may be grieving the loss of loved ones, friends and colleagues at NIU.
It is important for the Carnegie Mellon community members affected by this tragedy to know that resources are available through the university's counseling and psychological services free of charge.  
I also encourage you to register for our Alert Now Emergency Notification Service, which has been put in place to notify the campus community if there is an incident or event that threatens public safety.
All students, faculty and staff can register for the Alert Now service online at
https://my.cmu.edu/site/main/page.alert
(when you click on this link, you will need to login with your username and password to access this page). The service sends voice and/or text messages to registered phones in the event of a campus emergency. Nearly 6,500 students, faculty and staff have already subscribed to this service.
Also, in the event of an emergency the
Carnegie Mellon homepage
and
Web portal
will provide you with information and a link to
www.cmu.edu/alert
where more information and timely updates can be found.
Finally, we should also use this opportunity to remind ourselves to be vigilant and report any abnormal or suspicious activity we observe to the appropriate authorities.  I remain grateful for the supportive community of which we are all a part, including your attention to the safety and security of all of our members.
Sincerely,
Jared L. Cohon
President
Carnegie Mellon University  
Related Links: Campus Alerts
---