Grads, University Take Honors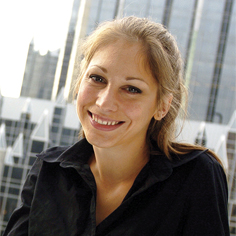 The night after she got her undergraduate degree, Christina Koshzow (HS '02) launched her entrepreneurial career. Her friend Luke Skurman (TPR '02, HNZ '04), asked her to join his new college-guide business College Prowler. Koshzow signed on as editor-in-chief and soon took on public relations responsibility, all while finishing her master's degree at the Heinz School in 2003.
Within a few years, what had begun as an undergrad project developed into a publisher of over 200 titles. With no prior experience, Koshzow had secured over 100 features in major media outlets.
She explains simply, "If you have something good, you have to let other people know how good it is!"
Last year, Koshzow and two College Prowler colleagues launched Branding Brand, a Pittsburgh-based PR and viral marketing company. It was a natural outgrowth of the work they had done with College Prowler.
Branding Brand recently won the Public Relations Society of America's Pittsburgh Renaissance Award for 'Creative Tactic,' competing against some of the biggest names in the business.
In addition to Koshzow's team, there were two other notable Carnegie Mellon winners of 2008 PRSA awards. "Carnegie Mellon Today" clinched top honors in the External Publications category, and the Software Engineering Institute won in the Annual Reports category.
Koshzow's winning creation was an innovative promotion that blended online and offline public participation. Not one to hog the limelight, Koshzow is quick to credit the team for Branding Brand's rapid success. Her partners are Joey Rahimi (TPR '01) and Christopher Mason (TPR '01).
"There's really no story without these guys because, if you take away one piece, it doesn't work anymore," she says.
The now 27-year-old Koshzow also credits her Carnegie Mellon experience. Aside from providing her with invaluable friends and business partners, she developed the powerful work ethic necessary for starting your own business.
"Entrepreneurs work ridiculous hours and Carnegie Mellon taught us how to work hard. Carnegie Mellon prepares you for anything."
Related Links: Branding Brand  |  Carnegie Mellon Today  |  Heinz School  |  College of Humanities & Social Sciences  |  SEI
---