Students Ponder 'Last Lecture'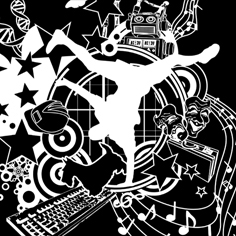 With "Move-In Day" madness behind them, first-year Carnegie Mellon students recently sat down in small groups with faculty and staff to share their reflections on "The Last Lecture."
Prior to their arrival on campus, all incoming students were sent a copy of the New York Times bestselling book based on Randy Pausch's now-famous talk. Reading the book was a first assignment of sorts — aimed at inspiring them to live the life of their dreams.
Molly Walter, who is planning to major in computer science, received the book in the mail and found mention of her dad. He's the Pittsburgh author who introduced Pausch to William Shatner.
"The thing I loved the most about the book was how you would open it up to the first page expecting a horribly sad story about death, but even by the time you finished that first page," Walter said, "you knew you were about to read some truly inspiring anecdotes about the exact opposite."
Samuel Liang Cheng — who is also studying to be a computer scientist — had already watched the lecture for the second time on YouTube, when he got his copy. Referring to the willingness of Pausch's parents to let him paint his bedroom, Cheng commented, "It's great to be able to nurture a child's creativity — because to them, the sky's the limit. And that's a great mindset to have."
In between meeting their resident assistants, house fellows and orientation counselors, the students explored their new surroundings, learned about The Fence and other campus traditions and made some new acquaintances at Playfair, billed as the biggest icebreaker ever.
Those interested in tasting some of the city of Pittsburgh's most popular foods attended "SmorgesBurgh" in Weigand Gymnasium where they sampled pierogies, kielbasa and Klondikes, all of which have roots in the city.
A full day coined "academic day" provided students with the opportunity to meet with an advisor and ask any last-minute questions before classes began. And at convocation, they got their first glimpse of the university's Scottish tradition of bagpipes and kilts in an official welcome by the faculty and administration. President Jared Cohon was on hand, welcoming the Class of 2012 with a special address.
And for a last bit of fun before getting serious about studying, houses competed in Olympic-style events during "House Wars 2008 — Takin' It to the Cut!" The winning house took possession of the coveted Carnegie Cup along with bragging rights for the year.
Image by Ariane Simon (A '09)
Related Links: About Orientation  |  Traditions
---