With Your Host: Daniel Wilson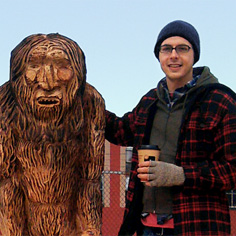 When Daniel Wilson graduated from Carnegie Mellon's Robotics Institute in 2005, he never dreamed he'd return three years later with a TV crew in tow. But as host of The History Channel's new program "The Works," his job is to amaze viewers with behind-the-scenes knowledge of everyday stuff.
So for an episode on robots, he charged full speed ahead to the most fascinating place he could think of: Carnegie Mellon University.
"I thought it was hilarious that someone would call me up and ask me to host a television show. I agreed to do it basically because it was just such a random occurrence," said Wilson, a contributing editor for Popular Mechanics and the author of four books that combine entertainment with learning. "Of course, about a week into the job, I suddenly realized that I was in for some serious hard work."
During the five months he spent shooting 10 episodes, he was never home for more than three days in a row, going on location to cover such topics as how Samurai swords are forged and the evolution of the bicycle.
"When bicycles were first invented, nobody even knew how big to make the wheels or where to put them. Then when the motorcycle showed up, people experimented with putting the engine on top of the front wheel," Wilson explained. "It just shows that people really are making it up as they go along and that there's always room in the world for improvement."
On the transition to television, Wilson said that when he's on camera he just pretends he's telling his best friends, "Holy crap! Did you know this?!"
And he admits to more bloopers than he can count — noting that they are often the best part of an episode. While forging Samurai swords, for example, he got sprayed with hot metal. He recalled, "It burned my jeans … and luckily nothing underneath!"
Wilson says one of the most important things he learned at his alma mater was how to think critically. "When you write a paper, you have to show people why the topic is important and then break it down so that anybody can understand it. That's exactly what I do on the program."
Wilson appears in several popular videos on Carnegie Mellon's RoboU website. One vid features Wilson battling Diane the RoboPhone, powered by Carnegie Mellon faculty-developed technology. Another shows Wilson warming up to Keepon, the peep-like creation programmed by Carnegie Mellon Ph.D. student Marek Michalowski. A third spotlights Wilson and Keepon, as the little yellow bot earns his place on a Carnegie Mellon Wall-of-Fame.
Among Wilson's books are How to Survive a Robot Uprising, which is in development at Paramount Pictures; and its sequel, How to Build a Robot Army. Both were inspired by being at Carnegie Mellon's Robotics Institute and seeing good robots being built every day but only "evil" ones on television, Wilson said. His forthcoming Bro-Jitsu: The Martial Art of Sibling Smackdown — due out in December — has been optioned by Nickelodeon Movies and was inspired by all the fights he had with his little brother growing up.
"The audiences for my books are anybody who wants to learn and laugh at the same time," he said.
The same could be said for "The Works." Tune in to The History Channel at 10 p.m. and have fun learning about some amazing stuff.
Related Links: Daniel's Website  |  Daniel & Carnegie Mellon Bots  |  Robotics Institute
---