Heinz Student is Miss Pennsylvania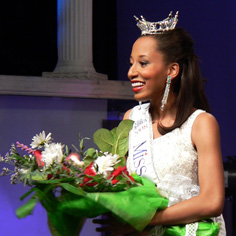 It's not every day you see a Carnegie Mellon student walk into class at the Heinz School wearing a tiara. But Kendria Perry was preparing for a speech she would later give in the Miss Pennsylvania competition on the importance of the arts. Her attention to detail paid off — she took home the crown and the title.
Taught by Professor Pamela Lewis, the class is called Strategic Presentation Skills. And it's where Perry polished the speaking skills that she feels led to her winning the competition. Lewis said she noticed Perry's ability to combine personal creativity with strategic argumentation as early as Perry's first class.
"Kendria's willingness to work outside her comfort zone expanded her skills and increased her range of options as a speaker," Lewis explained. "She'll be a terrific arts advocate — as well as an impressive Miss Pennsylvania."
Perry describes being crowned as a moment that, while surreal, was also very rewarding.
"I had worked so hard during the school year to balance my coursework with the task of preparing for the pageant competition," explained Perry, who is pursuing a Master of Arts Management (MAM) degree. "The MAM program at Carnegie Mellon is one of the best in the country and I was thrilled to be accepted and even offered scholarship support."
Perry believes that experiences in the arts can help equip students with many of the skills they will need to be competitive in the 21st century workplace — skills such as self discipline, effective communication, the ability to think creatively to solve problems and the ability to deal with ambiguity and complexity.
"As an artist, I came into the program with a strong foundation in performance and strong conceptual leanings in terms of my vision for re-shaping the cultural landscape," she said. "The MAM program has challenged me to be more strategic in my thinking and to quantify those ideas in a way that makes real business sense."
Growing up, Perry trained to be a concert pianist and dreamed of performing on the "big stages." She'll put classical music in the spotlight when she competes in Las Vegas for the Miss America title in January, hopefully getting to play a piece by her favorite composer Frederick Chopin.
In September, Perry will head to Los Angeles to take part in a reality television show "Miss America: Reality Check" on the TLC network. Meanwhile, she has already begun preparing for the Miss America competition — taking advantage of as many public speaking opportunities as possible.
"Miss America's job is to be a spokesperson for the organization — raising scholarship dollars and promoting Children's Miracle Network, which is the organization's official service platform," Perry noted. "So, I truly believe that speaking in public is the best way I can prepare."
Related Links: Master of Arts Management  |  Heinz School  |  Miss PA.org
---