Carnegie Mellon's Story Keeper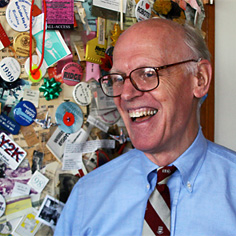 While most of us rush around attending to the details of our daily lives, focused on keeping up with the hectic pace of today, many of us probably know of a family member who has managed to somehow keep a sort of record of it all. With photos, souvenirs and mementos that tell the story of our history.
At Carnegie Mellon, that family member is Bill Elliott. Retiring last spring from his position as vice president of enrollment after 38 years at the university, in many ways Bill is still here — leaving behind the largest known collection of Carnegie Mellon memorabilia to span the university's history.
"Rather than put the collection in archives, I think it's very important for young people as well as prospective students and alums that will come back to look at it and just remember, 'Gee, this is what I remember when I was here,'" explained Elliott.
While the collection is being organized for a display on campus, Carnegie Mellon researchers behind the Gigapan project helped archive it online. Explore Bill's office today.
Elliott rarely missed an opportunity to snag a keepsake or a photograph. From pens to pennants, his office has served as a treasure chest for the Carnegie Mellon-related items he and his wife have been collecting since they first moved to Pennsylvania. It started during their visits to flea markets as they ventured out to learn more about their new home state.
More recently, Elliott has found many items through eBay.
"There were times when I've been at some meeting, and obviously the auction closes out, but that's the fun of the chase," Elliott said.
His legacy, however, goes far beyond the cherished chotskis, as many of his Carnegie Mellon colleagues and students can confirm.
"When you walk into Bill's office, you see so much history that is often left untold and unseen," said Elizabeth Yazemboski, who served as Elliott's assistant for seven years. "But one thing I've really taken to heart from working with Bill is that your education is something that no one can ever take away from you. He encouraged me to pursue and complete my degree in business management, and he has taught me to listen to problems and strategize on the best way to approach them and solve them."
Samantha Catanzaro, a first-year student who aspires to one day work at Disney Imagineering, remembers meeting Elliott when he visited her high school.
"I was blown away that somebody so important, a university vice president, would care that much about what I was doing as a senior," Catanzaro said of Elliott's interest in her high school robotics team. Shortly thereafter, he arranged for her to visit the university's Entertainment Technology Center during a sleeping bag weekend.
Echoing Yazemboski's sentiments, Catanzaro added, "I will never forget how he masterfully combined his professional attitude with sincere care and sensitivity in dealing with all types of people. Whenever I mention his name to someone, everyone has only the most wonderful things to say about his character and leadership ability."
Catanzaro said it's her goal to be the type of person and leader Elliott is.
"I want to be the kind of leader who is dedicated to and loves my work and relates to every person with an equal level of sensitivity and respect."
In short, to paraphrase an Andrew Carnegie quote often found on Elliott's memorabilia, he is the kind of leader whose "heart is in the work."
Related Links: An Interview with Bill  |  Tour Bill's Office Using Gigapan
---