Scholars in Local Government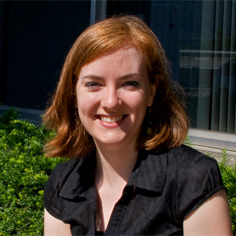 While some of her fellow grads head across country and around the globe, Emily Sturman is digging in her heels in Pittsburgh. Armed with a master's degree from Carnegie Mellon's Heinz School, she got a job in local government — and she wants to be a resource for other students who are looking to do the same.
"The Pittsburgh region needs the fresh ideas that bright young professionals can bring to the table," said Sturman, who majored in public policy and management. "There are numerous opportunities to do engaging, interesting and important work in this community."
Sturman is working for the Allegheny County Department of Human Services (DHS) through a one-year fellowship in the "Scholars in Local Government" program. It's a new DHS initiative to attract recent graduates of master's degree programs in public policy, public administration, social work, business, law and related fields.
"DHS is widely regarded as a model for government human services, and it's important that our work be broadly available for study and implementation in other regions, and continuous improvement in our own," Sturman explained.
DHS performs extensive evaluations to measure the outcomes realized by users of its services, identify unmet needs and isolate ways to improve quality and efficiency. But reports are typically under-published because resources for organizing the data into polished documents are scarce.
Sturman's primary responsibilities involve writing and editing research materials developed by the department's various programs. Her work will be used by a range of audiences including the media, managers, other service providers, human services professionals, funders, academia and the general public.
Sturman hopes that she and others can set a new trend where young professionals want to — and do — stay in Pittsburgh. She credits the spirit of collaboration and innovation at Carnegie Mellon for shaping the way she approaches her work.
"One of the things that drew me to the Heinz School was the Systems Synthesis project," she explained. "Rather than writing a thesis paper, students participate in a semester-long group project that tackles a real problem for a real external client."
She says it's one of many opportunities that Heinz School students have to work collaboratively and creatively with students across programs and areas of interest.
"This hands-on experience is a great preparation for individuals bound for work in the public or nonprofit sector, and it sets Heinz apart from many other public policy schools."
Related Links: Allegheny County DHS  |  Heinz School
---