Penguins Fans Get a New View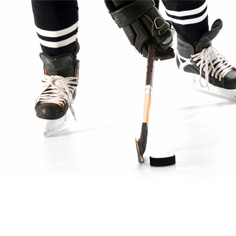 In the midst of hockey fever comes news that software developed at Carnegie Mellon could offer up new benefits for Pittsburgh Penguins fans in coming seasons.
Called the "Yinz Cam," the tool could let spectators watch the game from any vantage point in the new arena on their cell phones. It could even tell them the best times to head for the refreshment line (or yes, even the bathroom line).
"Hockey moves really, really fast, and you want to catch every second of the game," explained Carnegie Mellon Professor Priya Narasimhan. "Even if you have excellent seats right up against the glass, when the action is on the other side of the arena you no longer have the best seats in the house."
Narasimhan and her students began working on a solution when they heard the Penguins were looking for ideas for the new arena, which is set to open in the Fall of 2010.
An associate professor of electrical and computer engineering (ECE), Narasimhan made the project part of her capstone course on embedded systems design last semester.
With the Yinz Cam, spectators could download a widget onto their cell phones prior to the game. They'd then be able to choose from a variety of camera views. It would also allow them to replay their favorite player scoring a goal, a fight that broke out or any other action that happens on the ice.
Narasimhan said her students' passion for the Pens was her inspiration for the project.
"The students are amazing," she said. "And they and I are big fans, so this is a really big deal for them."
Michael Chuang, a Carnegie Mellon Ph.D. student working with Narasimhan, is enjoying the opportunity to combine his interest in sports with his engineering research.
"Many times my friends and I prefer watching the game at home instead of paying for nosebleed seats because we get a better view of the game on television," said Chuang.
"Now that we're replicating some of that TV and TiVo experience for fans on their cell phones, there's more incentive to go to the games."
Related Links: Pittsburgh Business Times Article  |  Electrical & Computer Engineering
---