Buggy, Booth and Beyond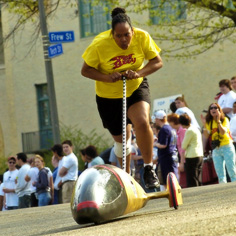 "EXTRA! EXTRA! Read all about it!"...  Carnegie Mellon's Spring Carnival made news this year with a theme that brought headlines to mind.
The annual event aims to please kids of all ages — whether it's cheering on students racing through campus in their team-engineered "buggies" or exploring elaborate booths on the way to the Ferris wheel. The new mascot costume was unveiled at the opening ceremony.
Always a Spring Carnival favorite, Buggy began in 1920 as the "pushmobile races" of Campus Week. Back then, pushmobiles were little more than rain barrels with bicycle wheels.
Today, student teams (who are highly secretive about their methods and plans) build, test and race aerodynamic versions of the old soapbox racer. Built from various compositions that may include fiberglass, carbon fiber, Kevlar and epoxy, these aerodynamic, missile-like vessels — navigated by petite drivers strapped inside and steered by team members known as "pushers" — reach speeds of up to 35 miles per hour.
After being pushed up Tech Street and given a good shove at the top of the hill, the buggies then roll freely down Schenley Drive and turn onto Frew Street, where more pushers await to propel the buggies toward the finish line.
Spring Carnival is as much an opportunity to enjoy food, rides and games as it is an opportunity to reconnect with old friends — and make some new ones. The weekend's festivities also included:
Scotch'n'Soda show, "A Funny Thing Happened on the Way to the Forum"
Live entertainment by national hip-hop act "The Roots" from Philadelphia
Kidzone! — where you and your children can make crafts, enjoy snacks, take a picture with Carnegie Mellon's new mascot at the Frew Street tent or pick up a souvenir on Midway
Alumni Association All Campus Barbeque — Friday from 11 a.m. to 1 p.m. on the College of Fine Arts lawn
Special reunion activities were planned for alumni in the classes of 1993, 1998, 2003 and 2007. For information on the events listed above and more visit http://www.andrew.cmu.edu/org/carnival/index.html.
Related Links: Mascot
---