Cosby Gives Us a Scottish Terrier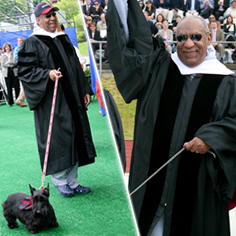 Comedian and canine enthusiast Bill Cosby has given Carnegie Mellon University its first live mascot — a Scottish terrier. This news comes just weeks before the new official mascot costume will debut at Spring Carnival, along with the announcement of a formal name for the mascot.
To take part in choosing a name, students, faculty and staff can use their Andrew ID to cast a vote in the survey at www. cmu.edu/mascot. Alumni will also be given the opportunity to participate. While there, check out the new mascot site, complete with wallpapers, buddy icons and a ringtone for your mobile (standard rates apply).
Cosby was inspired to present Carnegie Mellon with a live mascot after delivering the university's 2007 commencement. The comedian strolled into the graduation venue walking Murray, a Scottish terrier owned by Civil and Environmental Engineering Professor Larry Cartwright.
Mascot Identity Task Force co-chairs Susan Bassett, director of athletics, and Jennifer Church, dean of student affairs, said an official mascot was identified to boost school spirit.
Cosby agrees. He's an advocate for education, but he also encourages students to take time away from studying to build friendships and have fun.
Beginning in the summer of 2008, Cartwright will serve as the mascot's owner and "manager." He will continue to train the puppy until its first on-campus appearance in fall 2008. In the meantime, a student committee will develop guidelines for both the live mascot and the mascot performer, as this is all new territory.
Best known for his popular television show, Cosby is also recognized among breeders and animal lovers for co-owning a "top dog." Harry, Cosby's Dandie Dinmont, won first place in the 2007 Westminster Kennel Club Dog Show's highly competitive Terrier Group.
Although Carnegie Mellon's live mascot will not debut until the beginning of the next academic year, the new mascot costume and name will be unveiled at the university's Spring Carnival opening ceremony at 3 p.m., Thursday, April 17.
Following the ceremony, the costumed mascot will make appearances April 17-19 at the Spring Carnival KidZone, Midway and Buggy competition, best known for its student-created, aerodynamic race cars.
The Scottish terrier has long been a Carnegie Mellon icon, tracing back to founder Andrew Carnegie's own pet. However, it was not named the school's official mascot until spring 2007.
Carnegie Mellon's Mascot Identity Task Force engaged students, faculty, staff and alumni in Town Hall meetings, surveys and focus groups to choose a mascot and develop its graphic identity. The Scottish terrier was selected for its alert, intelligent expression and physical attributes that exemplify strength, power and agility in a small package.
Update: April 26, 2018—University Statement: Revoking Bill Cosby's Honorary Degree
Related Links: Mascot Website  |  Athletics  |  Spring Carnival
---