Film Shot at Carnegie Mellon Opens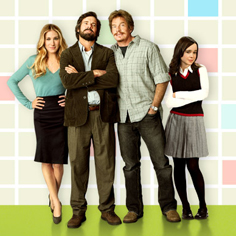 "Smart People" — the major motion picture from Miramax starring Dennis Quaid as a Carnegie Mellon English professor — is now in theaters.
The movie, filmed at various locations on Carnegie Mellon's campus and around Pittsburgh, also stars Sarah Jessica Parker as the professor's former student and Ellen Page as his daughter.
Carnegie Mellon's partnership with the Pittsburgh Film Office helped to bring the film to the city. And working with the production company, Carnegie Mellon was able to provide students with a number of educational opportunities — including internships and the chance to participate as extras in the film.
Dennis Quaid even took time out from filming to have an informal Q&A session with students interested in the performing arts.
"Every moment working on the set was exciting. I really got to see how things worked, and I made a lot of great connections," said student intern Paul Anthony Rouphail. "I was there for most of the production dates and saw how the campus was used as a set, so it was interesting to see how the campus appeared on film."
Another student intern, Corey Werner, enjoyed helping the set designers with props — and aging books.
"It's a very secret process involving coffee and not much else!" said Werner, who is now happily pointing out to fellow movie-goers those books he helped to make or alter. "It's fun to see my work, regardless of how slight its role, knowing it's in movie theaters across the nation."
A Miramax spokesperson commented that the university — which is featured prominently throughout the film — looks "both smart and hip." Carnegie Mellon students enjoyed a pre-screening of the film in McConomy Auditorium the night before it opened in theaters.
Billed as a dark comedy, the plot finds Professor Lawrence Wetherhold recently widowed with a son, whom he's alienated, and an overachieving daughter, who hasn't any friends. As Wetherhold falls in love with his former student Janet, matters become increasingly complicated when his ne'er-do-well brother (played by Thomas Haden Church) unexpectedly appears on his doorstep needing a place to stay.
The movie is directed by Noam Murro and produced by Bridget Johnson, Michael Costigan, Michael London and Bruna Papandrea. London's credits include "Sideways," "House of Sand and Fog" and "The Illusionist."
Related Links: Interview with Paul Rouphail  |  Related Story in Go Magazine  |  Visit Carnegie Mellon  |  The Global University
---