Community Design & Public Health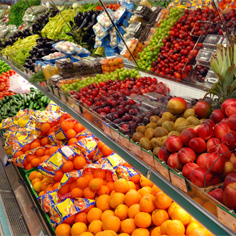 Obesity is a challenge front of mind for many in the United States. Kristen Kurland, a Carnegie Mellon faculty member and expert in Geographic Information Systems (GIS), believes that thoughtful community design can offer some solutions.
Kurland and her research team use GIS to capture, display and analyze data affecting obesity and other public health issues. (Think Google maps.) They're revealing some interesting findings that may help Pittsburgh communities.
In one example, Kurland has shown that the absence of a grocery store in Pittsburgh's Hill District limits the residents' access to healthful food — particularly when combined with the fact that few Hill residents can afford a car to get to a grocery store outside of the area. They are forced to rely on local convenience stores for provision.
Armed with this knowledge, an interdisciplinary team of Carnegie Mellon students is working to attract a full-service grocery store to the area.
Another of Kurland's projects involves using a Carnegie Mellon-developed GIS enhancement called Maphub. Using the tool, Hill District residents are helping to identify what makes walking for exercise difficult in the area. The resulting maps will be used to show changes that could help make the Hill more walkable — from adding sidewalks to altering traffic patterns, and possibly even some policing.
Other ways Kurland and her team have used GIS to help combat obesity include mapping elementary school locations against local green spaces and their associated walking distances. For schools lacking exercise facilities, some may be near enough to local parks that outdoor gym classes could become part of the curriculum.
She is also collaborating with Silva Arslanian, M.D., director of the Weight Management and Wellness Center at Children's Hospital of Pittsburgh.
Together, they're showing that kids from the Wellness Center who have lost weight live closer to parks and farther from fast food as opposed to the kids who have gained weight. They recently presented their work at the Pediatric Academic Societies annual meeting in Hawaii.
Kurland has also looked at which school districts have the highest number of obese patients at the Wellness Center.
"If we can provide data to healthcare providers that shows a particular school district has an extraordinary number of overweight kids who are at risk of health problems, then the healthcare provider could say to that district, 'Look, you may want to make some changes to your physical education programs, your school lunches and your vending machines," Kurland explained.
Kurland is the co-author of several books widely accepted as the best available for learning GIS. Her "GIS Tutorial for Health" — co-written with Wilpen Gorr, professor of public policy and management information systems in the Heinz School — is used by the Centers for Disease Control and Prevention.
Kurland has a joint appointment in the College of Fine Art's School of Architecture and the H. John Heinz III School of Public Policy and Management.
Related Links: Heinz School  |  School of Architecture
---