Hats Off to New Grads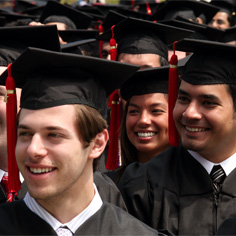 Carnegie Mellon's 111th commencement ceremony takes place Sunday, May 18, 2008. Former U.S. Vice President and 2007 Nobel Peace Prize winner Al Gore will give the keynote address.
The ceremony will begin at 11 a.m. in Gesling Stadium, with seating on a first-come, first-served basis. For those unable to attend this special event in person, the ceremony will be broadcast online.
In addition to the ceremony, throughout the weekend commencement activities will be held at the colleges, schools and other locations. These events include breakfasts, receptions and a "Zero-Year Reunion."
Gore is the author of the bestsellers "Earth in the Balance" and "An Inconvenient Truth," which was the subject of an Oscar-winning documentary that detailed the devastating effects of global warming. His recent book, "The Assault on Reason," was issued in paperback in April.
Gore shares the 2007 Nobel Peace Prize with the Intergovernmental Panel on Climate Change for "informing the world of the dangers posed by climate change." As a member of the panel, Carnegie Mellon Engineering and Public Policy Professor Ed Rubin shares the Nobel.
Also receiving honorary degrees at the ceremony will be:
Norman R. Augustine, retired president and CEO of Martin-Marietta and Lockheed Martin; doctor of public policy
Jeffrey Bezos, founder of Amazon.com; doctor of science and technology
Elizabeth Catlett, distinguished artist and sculptor; doctor of fine arts
Nam P. Suh, president of Korea Advance Institute of Science and Technology (KAIST); doctor of science and technology
Patrick Suppes, the Lucie Stern Professor of Philosophy, Emeritus, at Stanford University; doctor of science and technology
For more information, visit the commencement website.
Related Links: Commencement FAQ  |  Schedule of Events  |  Visitor Info  |  More about Al Gore
---