Making a Difference in the Community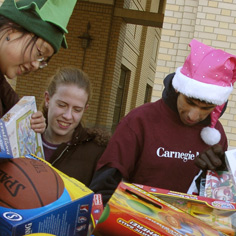 Carnegie Mellon engineering students collected and delivered more than $1,000 worth of toys via horse and sleigh to U.S. Marine Corps personnel in December.
"We're extremely excited about being able to contribute," said Joshua Bordin, a freshman engineering student and head of the toy drive. "I think our involvement is really making a difference, especially since the postal service is not permitting the traditional collection of toys at area post offices this year."   
The U.S. Marine Corps Reserve "Toys for Tots" Program helps needy children throughout the United States experience the joy of the holidays. At the same time, it unites members of local communities in a common cause for the months of October, November and December each year during collection and distribution of the toys.
Educational associations nationwide are praising and encouraging more student involvement in the community and the local economy.   
"This is just one of many ways that Carnegie Mellon is contributing to the greater Pittsburgh and southwest Pennsylvania region," said Terry W. Hartle, a senior vice president for government and public affairs at the American Council on Education.
University Police, in conjunction with the Carnegie Mellon Campus Police Association, also collected new and unopened toys for their Toys for Tots program. Several other university teams were involved in charitable projects over the holiday season.
Carnegie Mellon encourages students, staff and faculty to give back to the community throughout the year.

Related Links: Read More  |  College of Engineering
---