Scottie, Highlander or Just Plain Plaid?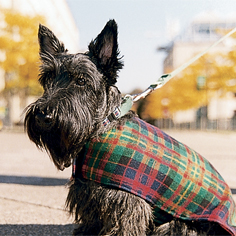 The conversations continue in the quest for an official mascot. To date, Carnegie Mellon has been represented by tartan plaid, with a Scottish Terrier making its way onto some shirts and caps. But unlike the university's wordmark or seal, the pup doesn't have a license.
To show how serious the university is about creating an official mascot, a Mascot Committee has been formed to accomplish the mission. Co-chaired by Dean of Student Affairs Jennifer Church and Athletics Director Susan Bassett, the committee is involving students, faculty, staff and administrators in various capacities to assist in the selection process.
According to junior women's soccer player Jennifer Howard, many in the athletic community want to keep the Scottie dog and simply update its image.
"There is a lot that can be done with that," said Howard. "It doesn't need to look anything like the current one.  I think it's very important to continue the Scottish heritage and tradition of the mascot.  I like the idea of giving it a name like Terry or Andy."
The committee said that if the Scottie dog does indeed take the title, both the graphical element and the costume will be revamped. And it would likely be accompanied by a palette of other mascot designs representative of the university, such as the Highlander, to be used for various purposes.
Junior football player Matt Adams thinks the mascot should include something that helps one describe what a 'Tartan' is.
"It's confusing enough that our nickname is a type of plaid," Adams said. "Right now our unofficial mascot, the Scottie dog, has a tartan over it. So, at least I can say, 'No we aren't a dog, we are the thing he is wearing.'"
Adams added, "Ideally, I think we could have a cartoon tartan or blanket as our mascot. It could be like the magic carpet in Aladdin or the blanket in Brave Little Toaster. It might be too hard to have it as a real life mascot for games though, since it would be difficult to dress someone up as a piece of cloth."
Students will have a chance to weigh in with their own opinions through an online survey that will be sent out via email in the coming weeks. Alumni are also being surveyed, and a town hall meeting was held Jan. 29 generating more discussion on the topic.
To share your ideas today, email the Mascot Committee [mailto: carnegie-mascot@andrew.cmu.edu].
Related Links: Pittsburgh Post-Gazette Article  |  Carnegie Mellon Athletics
---